The Office of the Vice Provost, Innovations in Undergraduate Education oversees academic and policy matters related to design, development and delivery of Massive Open Online Courses (MOOCs) supported by the institution. An advisory committee has been established to guide the office in development of Open UToronto principles and practice and to provide strategic advice and guidelines regarding online and open access resources and courses.
MOOC Partnerships
Program Oversight
Director – Digital Learning Innovation provides support in the area of faculty development related to MOOC initiatives; consults on resourcing, team-based planning and design; coordinates institutional research and evaluation activities; and acts as liaison with the Office of the Vice-Provost Academic Programs as required.
Director – Academic and Collaborative Technologies provides support in the area of Open UToronto initiatives broadly, identifies institutional strategies and processes related to resourcing and infrastructure integration, and enables access to relevant information, resources, services across the institution.
Please contact digital.learning@utoronto.ca for information or consultation.
Approvals and Funding
The Open Course Initiative Fund (OCIF) supports instructors seeking to develop a MOOC. Proposals may be reviewed and submissions accepted on a rolling basis and are continuing for the 2022-23 academic year. Other important resources to support your MOOC proposal include:
MOOC Initiative Activity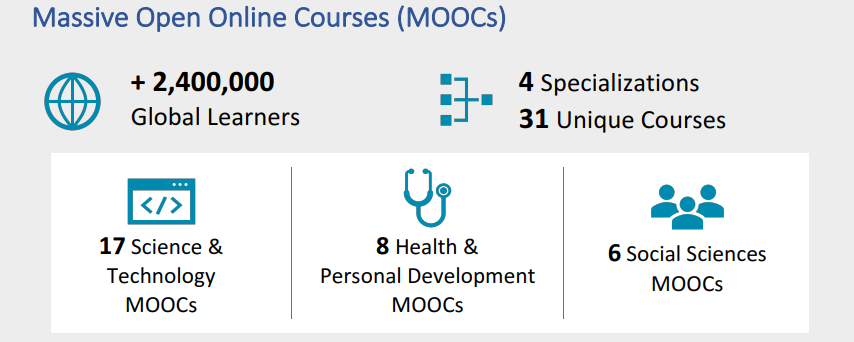 In January 2020 the University of Toronto had over 2,400,000 learners enrolled in at least one MOOC. UofT has 17 MOOCs in Science and Technology, 8 in Health and Personal Development and 6 in Social Sciences with 31 unique courses and 4 specializations.
MOOC Report Archives
MOOC Research Activities