The Office of the Vice Provost, Innovations in Undergraduate Education oversees academic and policy matters related to design, development and delivery of Massive Open Online Courses (MOOCs) supported by the institution. An advisory committee established development of Open UToronto principles and practice and has provided strategic advice and guidelines regarding online and open access resources and courses.
Over the past 10 years of MOOC offerings, our institutional strategy remains focused on addressing the following goals: 
Contribute to the education community and the broader public through sharing of institutional expertise and open curriculum content

 

Explore and evaluate a range of pedagogical approaches and open course platforms

 

Leverage use of open educational resources through integration into University of Toronto degree program courses

 

Showcase the University of Toronto's capacity as a leading institution for teaching, learning and research
MOOC Partnerships
Program Oversight
Director – Digital Learning Innovation provides support in the area of faculty development related to MOOC initiatives; consults on resourcing, team-based planning and design; coordinates institutional research and evaluation activities; and acts as liaison with the Office of the Vice-Provost Academic Programs as required.
Academic and Collaborative Technologies also provides support to the area of Open UToronto initiatives broadly, identifying institutional strategies and processes related to resourcing and infrastructure integration.
Please contact digital.learning@utoronto.ca for information or consultation.
Approvals and Funding
The Open Course Initiative Fund (OCIF) supports instructors seeking to develop a MOOC. Proposals may be reviewed and submissions accepted on a rolling basis and are continuing for the 2022-23 academic year. Other important resources to support your MOOC proposal include:
MOOC Initiative Activity Report 2021-22
University of Toronto (UofT) MOOC activity remains strong and over the pandemic we experienced growth in the access to our over 40 MOOCs offered on both edX and Coursera.
Between January 01, 2021 and September 01, 2022 we had over 525,000 new enrolments and granted over 70,000 certificates. Looking at daily participation patterns, each day some 1000 learners were actively engaged with UofT MOOC content. The most popular MOOCs offered by UofT were health/wellness related as well as programming. We also added 3 new courses during this time, Teaching for Critical Action (OISE), The 360° Corporation (Rotman) and Leadership Skills Development for Occupational Therapists (Occupational Therapy).
During the pandemic, Coursera offered the "Coursera for Campus" (C4C) initiative. Institutions partnering in this initiative provide their MOOCs to other members for their students to take courses for free. While not as extensive as the full MOOC catalogue, it provides students with a wide variety of courses. UofT students have taken notice with over 21,000 enrolments and over 2,500 certificates gained. The most popular C4C MOOCs were related to data science.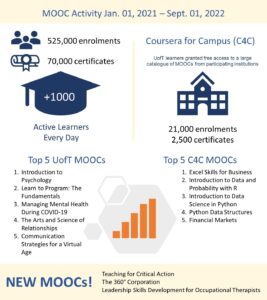 MOOC Research Activities