Stavroula Andreopoulos
Course/Program

BCH311H (Biochemistry I: Nucleic Acids and Biological Information Flow)/Biochemistry Program.

BCH311H is a 12-week course that covers the basics of nucleic acids and flow of information in biological systems​.

Read the Full PDF Report
Design Context
Recent data has shown that passive learning does not promote the development of scientific literacy and communication skills, nor does it improve student engagement and academic performance.  Partnering with an English language specialist, we transformed BCH311H to address these issues by designing 4 assignments and accompanying e-modules focused on reflection, critical thinking, science literacy, making foundational connections, and communication skills.  ​ 
I joined D3QA in order to understand the extent of student engagement (via collected Quercus data) with the four e-modules we created and to assess how this engagement relates to their academic performance. 
Instructional Challenge
The goal is to use the Quercus data-analytics from BCH311H to understand the extent of student engagement/use (time accessed/# of views) of the 4 e-modules and whether they are valuable and measurable predictors of student success (average grade of each assignment, overall course grade).  This would also be an indirect measure of enhanced competency in scientific literacy.  ​ 
Since the course is currently online (compared to in-person pre-COVID), we would be able, additionally, to assess whether individual completion of the e-modules is the best approach, or if future students should complete the e-modules (and possibly assignments) in small groups, the latter of which aids in promoting active learning.  ​ 
Overall, the information from this project will be beneficial in facilitating re-design of the evaluation process in the course in general. 
Design Strategy
We looked at e-module viewing count data that was generated by linking the weekly data exported from Quercus and analyzed it with respect to post-module submission scores and assignment/quiz scores for each of the four e-modules, along with final overall grade obtained from the Quercus Gradebook centre.  
Use of Data to Inform Design Iteration and Instruction
I explored the following:
The total view counts for e-Module 2 (Journal Article) was lower than the other three e-modules (may be due to assignment structure i.e. quiz versus written/oral assignment). ​

 

There was a weak but statistically significant correlation between the viewing counts and academic performance indicators (post submission score, assignment score, final grade) for e-modules 1, 3 and 4.​

 

Analysis of student views (based on frequency) revealed that the more often students viewed the e-modules, the better their performance on both the post submission score and assignment score.​

 

No action on instructional design was taken during the duration of the course since analysis occurred post-term.
Student engagement (as measured by e-module viewing counts) is associated with academic performance indicators.  This also complemented qualitative data associated with the e-modules.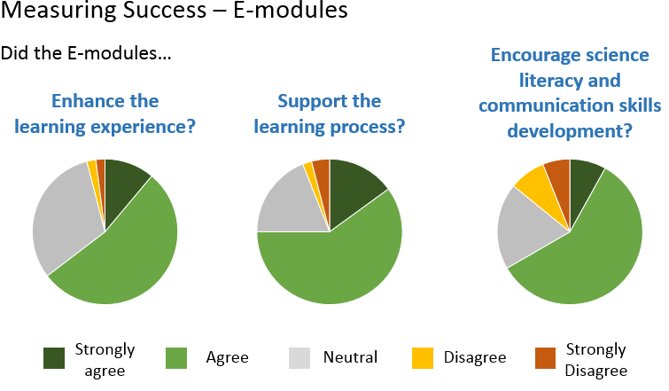 Next Steps
E-module viewing count only indicates the quantity of access to course materials, however, does not measure the quality of students' cognitive engagement while viewing the e-modules. Moving forward, we can address student e-module interaction (e.g. note-taking, rewinding for content, repeating interactive components within the e-modules) by creating short surveys to accompany the e-modules.​ 
Since the timing of the e-module views (early views) appears to also be associated with post-module submission scores, it may be beneficial to make the e-modules available throughout the duration of the course rather than being released at specific time points.​ 
Given the e-module views and assignment grades for the Journal Article were significantly lower compared to the other three e-modules, redesigning of this learning modality is critical to enhance student success.  A longer time period could be given for completion of this assignment and/or incorporating this component into one of in-person assessments during the January 2023 course offering. 
Report