Introducing the IP Education Program – an important first step in today's knowledge economy.
---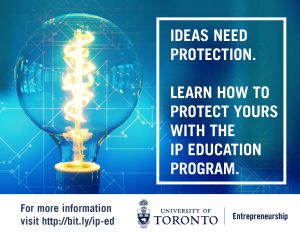 The Intellectual Property (IP) Education Program is an interactive, free, online training program from the University of Toronto Entrepreneurship to equip students, faculty, and staff with a broad foundation in intellectual property and its general applications in today's knowledge economy.
Built by renowned IP domain experts and leveraging best-in-class resources from organizations, including the Canadian Intellectual Property Office (CIPO) and the Centre for International Governance and Innovation (CIGI), this program will introduce learners to the basics of IP and related topics, including patents, trademarks, copyright and trade secrets. Connecting theory with real-world examples, students will be given the tools to recognize when they create something of value and the steps required to protect it.
PROGRAM BREAKDOWN
The program has two offerings; Level 1 – IP Foundations and Level 2 – IP Strategy and Application.
For each level, learners are expected to spend 2-4 hours to complete the modules and associated quizzes. Modules will also be augmented by case studies, optional instructor-led workshops and expert panel sessions to provide students with exposure to practitioners, thought leaders and entrepreneurs to share personal advice and customized education. Attendance at these workshops and events is not required but is highly recommended.
Successful completion of each level will be recognized on a student's Co-Curricular Record as a Knowledge Creation and Innovation credential for Level 1 and Strategic Thinking credential for Level 2.
No prior knowledge of intellectual property is required to participate in this program.
IP Foundations Program Outline
This level covers the following topics:
The concept of Intellectual Property (IP) and IP rights
The different types of IP rights and what they protect
The value of IP in commercialization
The basics of filing a patent application
By the end of this program you should be able to:
Identify the most appropriate type of IP protection for the different forms of IP
Recognize the different strategies for deriving value from IP rights
Anticipate the requirements and steps required to secure a patent
Each module consists of:
Readings/Slides: The majority of the teaching material will come from external resources created by national or regional Intellectual Property Offices and/or non-profit organizations that have created excellent content and tools for understanding basic and advanced concepts in intellectual property and IP strategy. Sections within the modules will provide the external links to the content to cover for that section.
Graded Quizzes: At the end of each Module, there is a graded quiz that will help test your comprehension of the material.  There will also be a Course Quiz to test your overall application of the concepts. Students are required to score at least 80% on all 4 quizzes to count as a completion. Multiple attempts to obtain a passing score are permitted.
Reflection Survey: Students must also complete a reflection survey to determine how they have engaged with the material and what strategies they hope to apply to future situations and settings. This assignment will not be graded, but completion of the entire survey is required.
Downloads for IP Education Program
The downloadable file packages below contain module content that can be imported into your LMS. Each of the module .zip files below contains a common cartridge file that has been exported from Quercus. You may choose one or all of the following modules to recreate the full course or borrow the relevant content from a specific module. Read instructions on
how to import content
after download. NOTE: All assessment items from all modules are included with each export below.
Learners must complete Level 1 before beginning Level 2.
IP Strategy and Application Program Outline (coming soon)
IP Strategy and Application (Level 2) is a more in-depth program consisting of six modules ranging from IP strategy and commercialization to IP best practices for startups and entrepreneurs. (Time commitment: approximately 3-4 hours.).
---
Support
Have a question about the program?
University of Toronto students, faculty, and staff can register for the course, with the online Registration Form.
Ask an Expert- please contact: ipeducation.entrepreneurship@utoronto.ca with your specific IP-related questions, and we will source a response from an expert in the field.
For inquiries about the program, upcoming workshops and IP related events, please contact: ipeducation.entrepreneurship@utoronto.ca.
More information: https://entrepreneurs.utoronto.ca/ip-education-program/
For inquiries about the entrepreneurship ecosystem at U of T, please contact: entrepreneurs@utoronto.ca.

This work is licensed under a Creative Commons Attribution-NonCommercial-NoDerivatives 4.0 International License.