Heather Thomson
Design Context
Program Planning and Evaluation: Health Systems Leadership and Administration (NUR1157) is a required graduate course in the Master of Nursing program. The course is offered entirely online and has historically been delivered completely asynchronously. NUR1157 is offered as the second-to-last course in the program prior to the final practicum-based course. It is the only course that students take in the Winter semester and during this time, the majority of students are working in full-time roles outside of the University. NUR1157 is aimed at preparing graduate nursing students to plan, implement and evaluate programs and projects to address problems within healthcare settings. Students have the opportunity to apply skills from this course in their final practicum placements.
Instructional Challenge
The goal of the course redesign was to increase student engagement in this asynchronous online course. This includes promoting opportunities for increased learner-content, learner-learner and learner-instructor engagement. During this course, students are often challenged with balancing school and work-demands, which has been further exacerbated by the COVID pandemic. This further highlighted the need to develop flexible approaches while also promoting opportunities for students to feel connected to the course content, their fellow students and the instructor.
Design Strategy
The redesign of NUR1157 was informed by two theoretical frameworks. The first was the use of backwards design to align learning outcomes with learning assessments, learning activities and instruction (Wiggins and McTighe, 1998).

Since the goal was to promote engagement, redesign was also guided by the Community of Inquiry framework (Garrison et al., 2000) which includes three key elements that contribute to a successful online post-secondary learning experience. The framework outlines the need to promote cognitive presence through leaner-content engagement, teaching presence through instructor-learner engagement and social presence through leaner-learner engagement. To promote learner-content engagement, some course content was initially redeveloped using two Articulate modules.
While student feedback suggested that students appreciated the modularized format, Articulate was a challenge to use while working from home during the pandemic and resulted in questions about sustainability. As such, this modularized format was recreated directly within the Quercus platform.
This modularized format included pages with course content, embedded videos, H5P knowledge checks, and short lecturettes. Learner-learner engagement was facilitated through the use of Collaborations for select group learning activities, shared online meeting space using Bb Collaborate, online discussion forums and introductions where students were encouraged to share a fun fact as well as their Twitter and LinkedIn profiles. Learner — instructor engagement was promoted through synchronous office hours, weekly 'talking head' introductory videos and through participation in online discussion forums.
Use of Data to Inform Design Iteration and Instruction
To leverage the use of data to inform course design decisions and monitoring, a basic dashboard was created in Excel. Dashboard data included analytics from Quercus including total number of page views, average page views, total participation, average participation, number of discussion board posts, and Quercus messages. Quercus surveys were used to gather qualitative feedback from students, as well as to poll for preferences with respect to participation methods within the course. Additional data that were collected included number of students who collaborated on documents in Office365, attendance levels in Bb Collaborate meeting rooms and office hours, number of video views from MyMedia (where possible, the reporting platform is quite unstable with frequent JSON errors), and total number of emails received. The initial intent was to monitor data on a weekly basis, however, this proved to be a challenge given competing priorities, further exacerbated by COVID. Instead, data were monitored at midterm and at the end of the course.
Next Steps
This project resulted in the complete redesign of NUR1157. Student feedback on the redesigned course modules has been overwhelmingly positive, so this work will continue. As a result of participating in this project, I have recognized that there is great value in collecting and monitoring course related analytics. Given that I have developed a basic data dashboard, I will continue to use this going forward as I continue to identify opportunities to make additional changes to this latest iteration of the course. I will also be connecting with the Faculty's Educational Technologist to explore the possibility of creating a dashboard that can auto-populate to ensure that analytics are able to be used consistently throughout the course.
Poster
Presented at the Teaching and Learning Symposium, May 2021.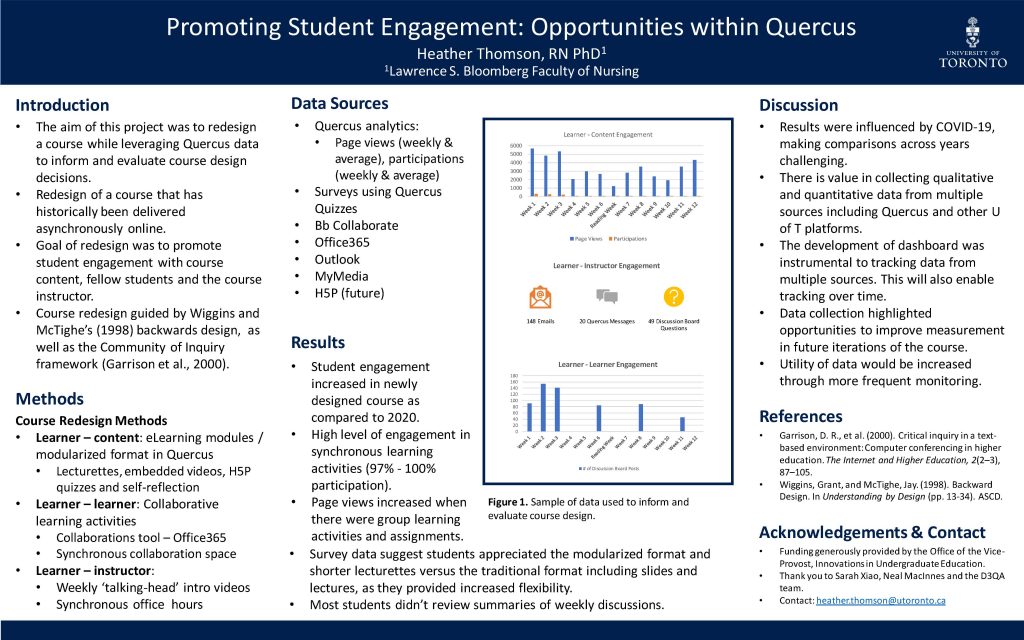 Click to download poster PDF in a new tab
Presentation Video