Chirag Variawa
Course/Program

APS191 – TrackOne Seminars (Winter Term 2022)  

This is a seminar series that will preview the core fields in Engineering. Each seminar will highlight one of the major areas of Engineering. The format will vary and may include application examples, challenges, case studies, career opportunities, etc. The purpose of the seminar series is to provide first year students with some understanding of the various options within the Faculty to enable them to make educated choices for second year. This course will be offered on a credit/no credit basis.

 

Read the Full PDF Report
Design Context
The APS191 Instructional Team wished to understand how this course helps undecided first-year undergraduate engineering students make an informed decision regarding their field of engineering study and glean insights that can be used to tailor content to student needs, while improving future iterations.
The investigation included identifying topics that resonated most significantly and most frequently with students, as well as relevance of course topics in the decision-making process. The outcomes of this study are significant in providing continued improvement in the approach(es) used by all departmental representatives when speaking with this first year cohort. As a learning tool, the insights identified via access logs can demonstrate areas of low/high-participation, whereas a comparative analysis of word-choice in discussion boards can highlight how topics of interest might change over the course of the semester.
Instructional Challenge
I wish to identify "common questions" that students have when deciding on a program of study. This will have tremendous impact on recruitment to various programs within our Faculty and will inform the development of resources for students who may be undecided (prior to application, or during secondary-postsecondary transition). Outcomes will further influence course framework so that future iterations consider the underlying questions and concerns that may exist, allowing proactive design of curriculum that makes instructional content interesting and accessible for all students.
Design Strategy
We asked the following:
Did undeclared engineering students change their mind about their discipline of choice as they progressed through the course APS191? If so, to what degree?
What factors did undeclared engineering students consider while making their decision about their engineering discipline for their second year of engineering studies?
Use of Data to Inform Design Iteration and Instruction
Weekly quiz data were collected throughout APS191 in the Winter Term 2022. Three questions were asked in these quizzes from Week 2 to Week 12:
Q1: After attending today's seminar, are you:
Most likely to select this engineering program?
Just as likely to select this engineering program?
Less likely to select this engineering program?
Q2: Why? (please use between 50-100 words in your response).
Q3: Given what you have learned in this course to date, rank the following Engineering disciplines in order of decreasing interest according to your current interest for each as a program of study in Year 2. Students were asked to rank each discipline only once.
The top four influencing factors for the undeclared students' decision making:
Presentation during the class session of the week
Expected career paths if choosing a particular discipline
Expectations about the curriculum
Interest in certain subject areas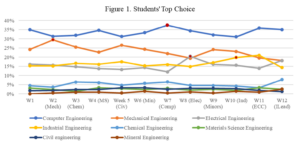 Next Steps
Stage 2:
Interview Prof. Variawa and reach out to other UofT professors teaching first year engineering courses
Research methods to objectively evaluate proposed key metrics
Stage 3:
Finish manually labelling one of the APS100 datasets for SA comparisons
Help sister project finish manually coding the APS191 dataset to use in TA comparisons
Report